The 15th Annual Joyce and Bill Toms Thanksgiving Benefit Concert
(Pittsburgh, PA)
 A benefit concert for PAAR (Pittsburgh Action Against Rape), organized by Joyce and Bill Toms will be held on Wednesday, November 23, 2022 at 7:30 pm at the Hard Rock Cafe in Pittsburgh (Station Square). Ticket price is $25. (Table Reservations Available)
Tickets can be purchased at The Hard Rock or online at:
https://www.exploretock.com/hardrockcafepittsburgh/event/368445/joyce-bill-toms-15th-annual-thanksgiving-benefit-show
21+ Guests under 21 can be accompanied by a parent
 The event will raise money for Pittsburgh Action Against Rape
This event will feature an evening filled with Blues, Soul, Rock and Roll, and Rhythm and Blues from Bill Toms and Hard Rain (featuring The Soulville Horns) w/ special guests Will Kondrich Band.
And appearances by:
Billy Price, Bubs McKeg, Miss Freddye, Shari Richards, Rick Witkowski, Jeff Bober, Don Hollowood, Jeanie Shook, Helene Milan, Jimmy Adler, Pierce Dipner,  Aris Paul, Marc Reisman, John DeCola, Jim Franciscus
And More...
So we must understand hope. Not in the mind only. But the body. So, we'll create "hope in action".  We'll reach out and move the stone, and free the trapped souls. And offer love.
With hope in its active role, that which was lost may be found.
My prayer…
Thank you, Bill
Your MC for the evening is Rob O'Friel (WYEP)
For more information about PAAR
https://paar.net/
Recording has begun on new songs. As the music is being created, periodically singles will be released. Stay updated
"Everybody's Talking" Video
In February 2020 Bill Toms and Hard Rain began the preliminary production process of recording a new CD. Then the pandemic, and things changed. This meant that 7-9 musicians could not cram into a studio at one time, sing, blow horns etc. So we started to understand that this was a new process and we could embrace it if we chose. We did. We were able to build like a quilt. Taking band member parts from their home studios. Will Kimbrough flying in his parts from Nashville. And even Simone Masina recording a bass part from his studio in Bologna Italy. 
All of it came and was put together by the legendary Rick Witkowski.
The new Record is called "Keep Movin' On" and now released on Terraplane Records.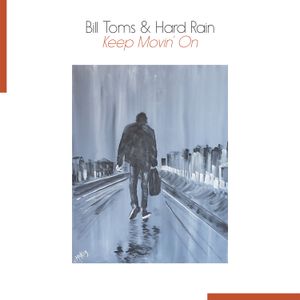 Click HERE to buy!